I hope you'll join me in making this an epic,
It'll work the same way.
Just make a vampire related post on V. Day.
At the end of your post,
direct your readers here.
I'll have a list of attendees to mingle with.
The point is to meet friends and have fun!
How do you get on this list?
Simply comment with the following info:
Your Name:
Blog Name:
Blog Address:
And please post this beautiful button,
made by the amazing
Retro-Zombie
!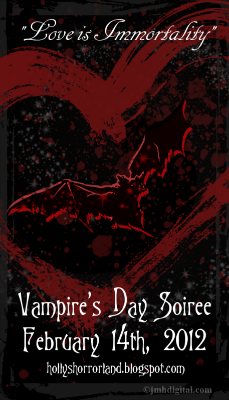 You can also participate in party planning
here
!
Guests
Emma of Little Gothic Horrors
Lilia Tombs of Horror Shock Lolipop
Nicole of Artwork By Living Dead Girl Nicole
Lorelei Bell of Lorelei's Muse
Lady Bethezda of Bethezda's Preoccupations
Justine of Justine's Halloween
Jason of HalloweenOverkill
Jeremy [Retro Zombie] of iZombieLover
Althea of Blue Sky Gazing
Jen of Zombies are Magic!
Pensive Pumpkin of Pensive Pumpkin
Greg of Rise and Fight
Matt of Spooky Halloween Arts
Dalestair Kidd of The Nightmares of Zodiac
Sary Walrus of The Walrus Room
Amy of The Ultimate Goth Guide
Charlotte of Lady Charlotte's House of Delirium
Alexandria Web of Queens of the Wild Frontier
Annie Walls of Annie Walls
Cayce of Fighting Dreamer
Luna of Turkce Gotik
Jessica of The Halloween Ladybug
Sheridan of The Zombie Moshpit
VictorianKitty of Sophistique Noir Gothic Fashion Blog
Jo of Time Is Poisoned
Niamh of Thoughts Of Smashed Doll
S. L. Hennessy of Pensuasion
Amber of The Aspiring Goth
DuskRose of The Midnight Ballroom
Carolin the HouseCat of Domesticated Goth
Lynoire of Milking The Rolling Cow
Angie of Lariats and Lavender
Chris of The Toxic Void
Mira of Detectives and Dragons
Nightwind of The Gothic Embrace
Alastair of App'y Talk